Nemanja Vučković (Serbia, 1990) is a painter of the younger generation. He graduated in 2012 from the Faculty of Applied Arts in Niš at the IUNP, in 2017, he completed his master's studies at the painting department and became a master fine artist in the class of academician Fehim Husković. He is currently studying for a doctorate in the field of painting.
Until now, Nemanja Vučković has had twenty-one solo exhibitions in the country and abroad, and he is a participant in over thirty group exhibitions around the world. He has attended many art colonies and symposia and has exhibited at six biennials so far. His works are in many private and public collections.
Most of the works are based on the search for a connection between the energy of nature and human energy at the moment of creation. His work is associated with the painters of Fauvism and abstract expressionism. He has been painting and exhibiting for more than twenty years. He has been a member of ULUS since 2020. His solo exhibition at the Legate House Gallery was nominated for the Politika Award for the best exhibition in 2021.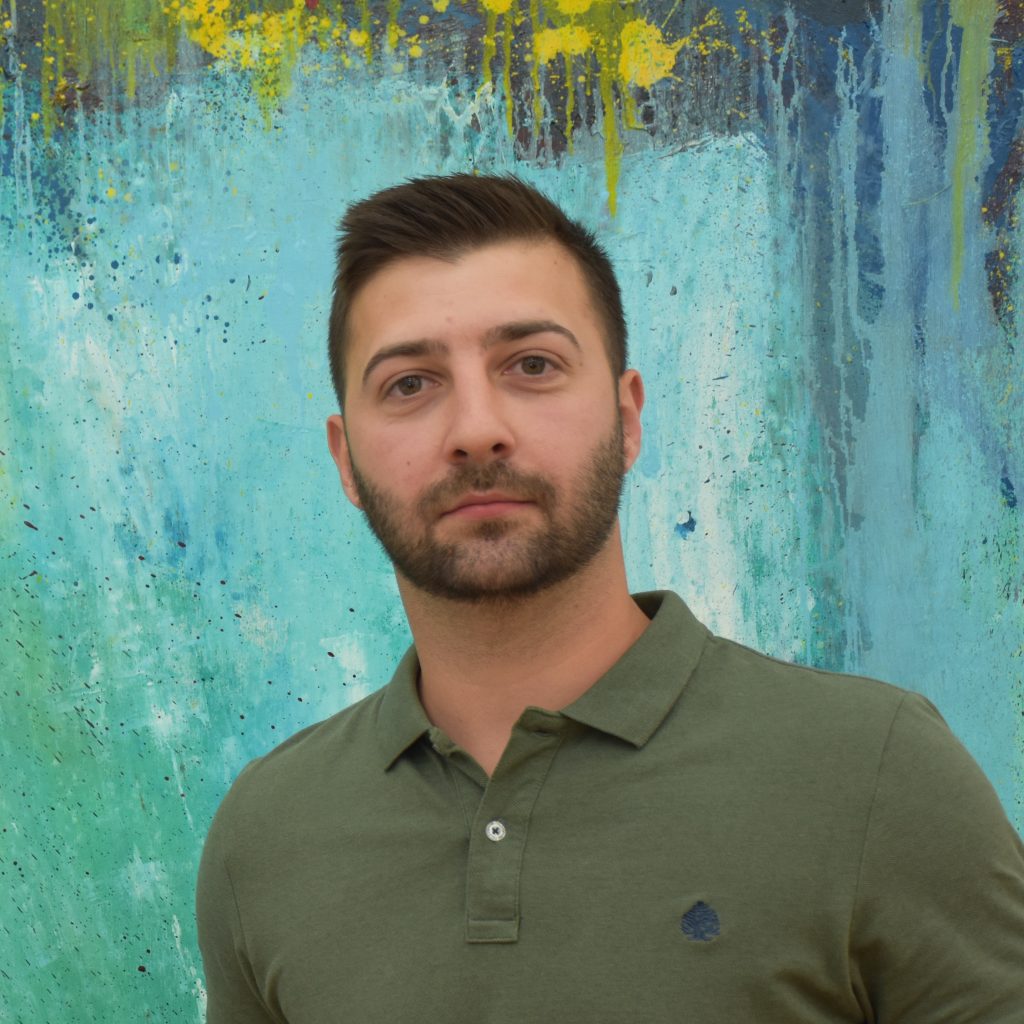 Solo exhibitions:
2023 – Salzburg, Austria, Consulate General of the Republic of Serbia in Salzburg, "Free Flight"
2023 – Velika Plana, Serbia, Masuka Cultural Center Gallery – "The Secret of Natural Processes"
2023 – Belgrade, Serbia, Belgrade Sales Gallery – Virtual exhibition "Color Codes of the Self"
2023 – Vienna, Austria, Marriott Hotel, Statehood Day of the Republic of Serbia, "Free Flight"
2022 – Vienna, Austria, Consulate of the Republic of Serbia in Vienna, "Free Flight"
2022 – Belgrade, Serbia, Pomodoro Nuovo, "Magical World"
2022 – Kotor, Montenegro, Kotor City Gallery, "Abstract Touch"
2022 – Lazarevac, Serbia, Modern Gallery Lazarevac, "The wave of love"
2022 – Čačak, Serbia, Čačak Culture House Gallery, "Spectrum of Emotions"
2022 – Belgrade, Serbia, Gallery of the Russian Center for Science and Culture "Russian House" – "Emotive move"
2021 – Belgrade, Serbia, Legate House Gallery, "The Secret of Natural Processes"
2019 – Novi Sad, Serbia, Novi Sad Cultural Center Gallery, Youth Tribune, – "Inner state of mind – Night picnic"
2019 – Niš, Serbia, The Hub, club & pub, -"Dodir uma"
2019 – Skopje, Macedonia, Gallery KIC salon 2, -"6. International Balkan exhibition Most"
2017 – Niš, Serbia, Cafe Galerija Paris Art Ame, – "Infinity"
2017 – Niš, Serbia, Contemporary Fine Art Gallery Niš, Pavilion in the Fortress, – "Inner state of mind"
2017 – Balchik, Bulgaria, Balchik Gallery – "Achromatic experience"
2017 – Vranje, Serbia, Gallery of the National University of Vranje – "Achromatic experience"
2016 – Novi Pazar, Serbia, International University Gallery – "Achromatic Landscapes"
2015 – Surdulica, Serbia, Gallery of the Cultural Center Surdulica – "Emotion"
2005 – Surdulica, Serbia, Gallery of the Cultural Center Surdulica – "Game"
Symposia:
2023 – Paraćin, Serbia, 48. Sisevačka art colony
2023 – Belgrade, Serbia, Third Contemporary Art Fair, CAF, Art Pavilion "Cvijeta Zuzorić
2023 – Zlatibor, Serbia, 14th Art Symposium "Vukadinović" – Painting Soul of the East 2023
2022 – Struga, North Macedonia, 7th Intentional Art Symposium Struga 2022
2021 – Belgrade, Second Contemporary Art Fair, CAF, Dorćol plac
2020 – Belgrade, First Contemporary Art Fair, CAF, N.EON Gallery
2017 – Balchik, Bulgaria, 10th International Art Colony "European Horizons"
2017 – Blace, Serbia, 100 years since the Toplic uprising
2016 – Balchik, Bulgaria, 9th International Art Colony "European Horizons"
2016 – Niška Banja, Serbia, 1st International Art Symposium
2016 – Plav, Montenegro, International Art Colony Plav
2015 – Plav, Montenegro, 39th Plav literal and artistic symposium
2010 – Plav, Montenegro, International Student Art Colony

Biennale:
2021 – Bandirma, Turkey, Online 1st International Visual Arts Biennial
2020 – Istanbul, Turkey, Engraving Printmaking Biennale 2020
2019 – Vranje, Serbia, Gallery of the National Museum – "7th Biennale of Artists of Vranje"
2017 – Vranje, Serbia, Gallery of the National Museum, "Vranje Biennale of Artists 2017".
2016 – Beijing, China – "BeiJing Art Fair"
2010 – Tetovo, Macedonia – "International Biennale – small graphics"

Group exhibitions:
2023 – Zlatibor, Serbia, Gallery of the Zlatibor Cultural Center, 14th Art Symposium "Vukadinović"
2022 – Struga, North Macedonia, Struga Cultural Center Gallery, 7th Intentional Art Symposium Struga
2021 – Kotor, Montenegro, Kotor City Gallery, IV Festival of Light "Palaces will shine".
2020 – Niš, Serbia, Gallery of Contemporary Fine Art Niš, "Niški druj" – "Everyday"
2020 – Belgrade, Pavilion "Cveta Zuzurić", – New members of ULUS
2019 – Vienna, Austria, International Bazaar at the United Nations (UN) in Vienna, UN Center
2018 – Leskovac, Serbia, Leskovac Cultural Center Gallery – "May 24 Art Salon"
2018 – Novi Pazar, Serbia, UKC Gallery, University May Art Salon 2018.
2017 – Balchik, Bulgaria, Art Gallery Balchik "European Horizons"
2017 – Leskovac, Serbia, Leskovac Cultural Center Gallery – "May 23 Art Salon"
2017 – Prokuplje, Serbia, Boža Ilić Gallery, Remembrance of the heroes of the Toplick Uprising
2017 – Sremska Mitrovica, Serbia, Srem Museum – "Art Salon 30 x 30"
2017 – Blace, Serbia, Drainac Cultural Center, 100 years since the Toplic Uprising
2017 – Pancevo, Gallery of Contemporary Art Pancevo – "Art Salon 30 x 30"
2017 – Belgrade, Serbia, Art Gallery 92 – "Art salon 30 x 30"
2016 – Zrenjanin, Serbia, Cultural Center Zrenjanin – "Art Salon 30 x 30"
2016 – Belgrade, Serbia, Friday Night Gallery – "My Universe"
2016 – Leskovac, Serbia, Leskovac Cultural Center Gallery – "54. October Art Salon"
2016 – Shanghai, China
2016 – Balchik, Bulgaria, Art Gallery Balchik "European Horizons"
2016 – Plav, Montenegro – "International exhibitions"
2016 – Leskovac, Serbia, Leskovac Cultural Center Gallery – "May 22 Art Salon"
2016 – Niš, Serbia