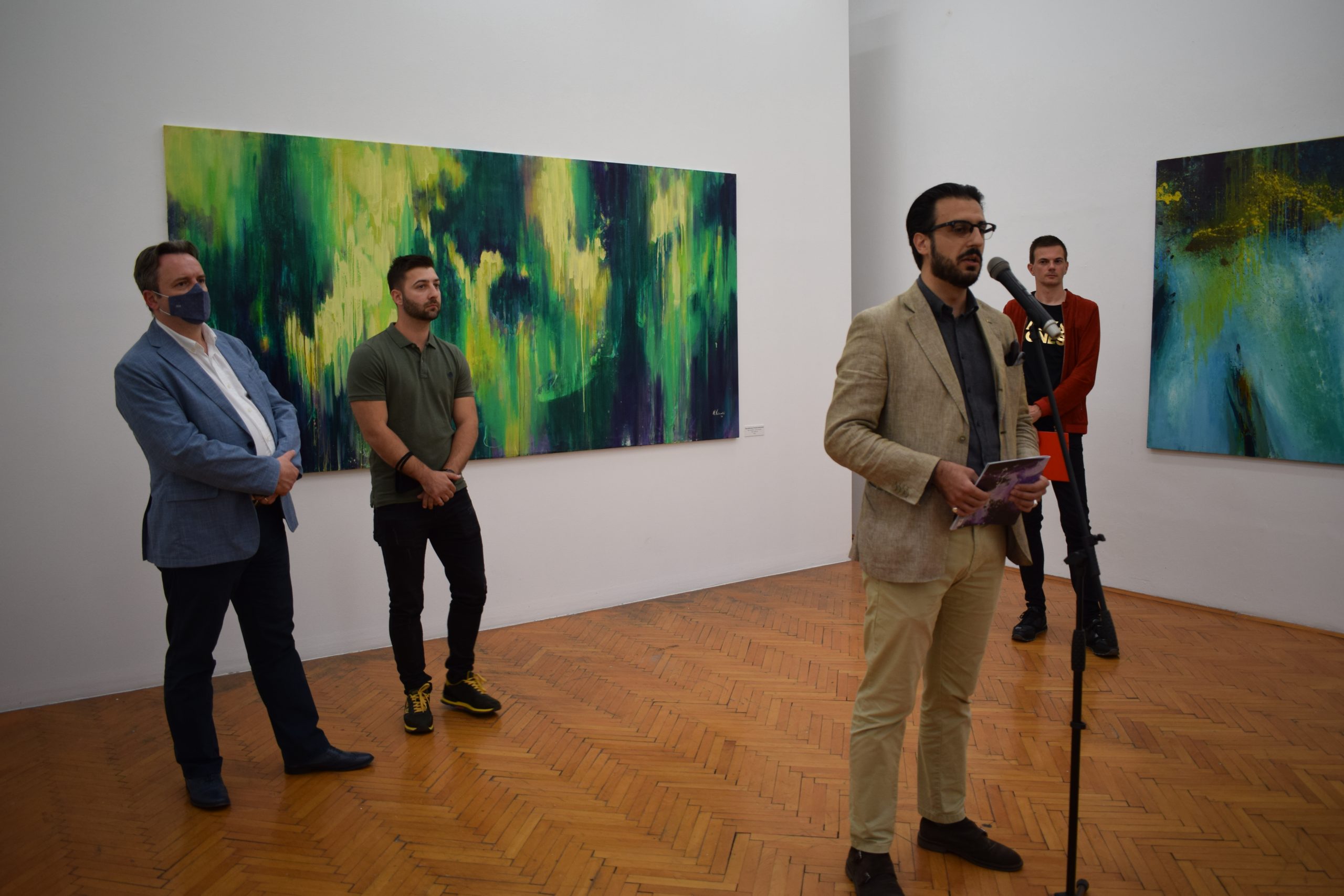 "The Secret of Natural Processes"
"The secret of natural processes and energy flow that holds the invisible architecture of reality can only be known by descending through the spiral of one's own being. This process is always invisible and the first step in it is intuition, it must be the main guide in the search for understanding the world as a whole. That scale, balance, balance between the rational and the intuitive separates the seeker of truth from the one who stumbles upon its segments or just scrapes for true knowledge, but it leaves no trace on him. The minimum required in this work is awareness of the process and understanding according to one's own intuition.
The largest percentage of Nemanja Vučković's work is precisely in what Aristotle calls the world of ideas, in the invisible and spiritual, therefore the only way to transfer a pure idea into reality is through abstraction. Any figuration would be too contaminated by the existing to be able to respond to the kind of task the author sets before himself when he begins work on the images we see in this series of works. These canvases with their invisible code lead the viewer from the inner beginning of this process, through the personal spiral of the artist and down to the essence of his being. It is impossible to determine their order by rational observation and analysis because it will be different for each observer and will create a different image of the whole depending on the world that the individual carries within himself. This introspection allows everyone to embark on their own journey through this collection of works and reach the depths by releasing their intuition and emotions based on visual stimuli and the order they choose.
Refined color and broad strokes speak of painting of the moment and direct communication with one's own inspiration. The layered construction of the image belongs to the second part of the author's approach, the thoughtful and intellectual approach with which he gently builds the material. If we made a cross-section in those layers, like an areologist, we would find phases in thinking that led to the final part. This dual nature of the author during creation underlines his narrative and philosophical approach to painting.
Moving from picture to picture, taking a part as a whole, independently separating segments and moving parts from time and space opens up unlimited possibilities in the alchemical sense for obtaining a higher value. In this case, the artist does it in his own way, according to his possibilities and needs, but opens up that possibility for the observer as well, giving him the necessary elements to build his own image of reality from his works. It is from this example that we can see the inseparable inner nature of man from the invisible laws of nature. In a similar way, the image itself is created, like a plant or a stream, it takes its form under numerous influences that are variable. In this case, intuition changes them, but they still function according to natural laws or, in this case, an impeccable painting technique that has its own internal rules. Like a flower, the painting opens in front of the author and only apparently its development stops there, but on the contrary, as with natural elements, its development continues in the eyes of the beholder, regardless of the fact that it remains untouched after completion, its form, intensity and life are limited through different contexts and viewing angles. The painting continues its life and pace of change like a living organism, always according to the rules of the creator and that invisible part of internal processes. The correspondence between nature (deed) and observer (spirit) is continuous and remains recorded like a genetic record. Each work carries within itself a series of views that have reached it. This can be especially felt in a gallery or museum. The picture at the beginning of the exhibition and at the end will not be the same and will change over time. It is precisely for this reason that art is an eternal process. The constant necessity for the creation of a new painting is the search for the purity of the thoughts and inner stimuli of the artist that drive him, to convey a pure emotion, a pure thought, unique and his own. These processes are of course mutual, the observer himself will not be the same after passing by the works themselves, thus every exhibition makes a big change in its visitor and of course in every artist. The mutuality and creation of this great change is the basis of the history of art, or at least of what remains of it. Honesty of spirit and curiosity of intellect is what builds each of these works individually in search of an observer who will free them in their own spirit from the limits of what we call the real world."
Dušan Zlokolica
Art historian
Editor of cultural programs of the National Library of Serbia
May 2021.
For the exhibition "The Secret of Natural Processes"
Heritage House Galleries, – Belgrade