12th solo exhibition in the Gallery of the Russian Center for Science and Culture "Russian House" in Belgrade, – "Emotive move" 2022.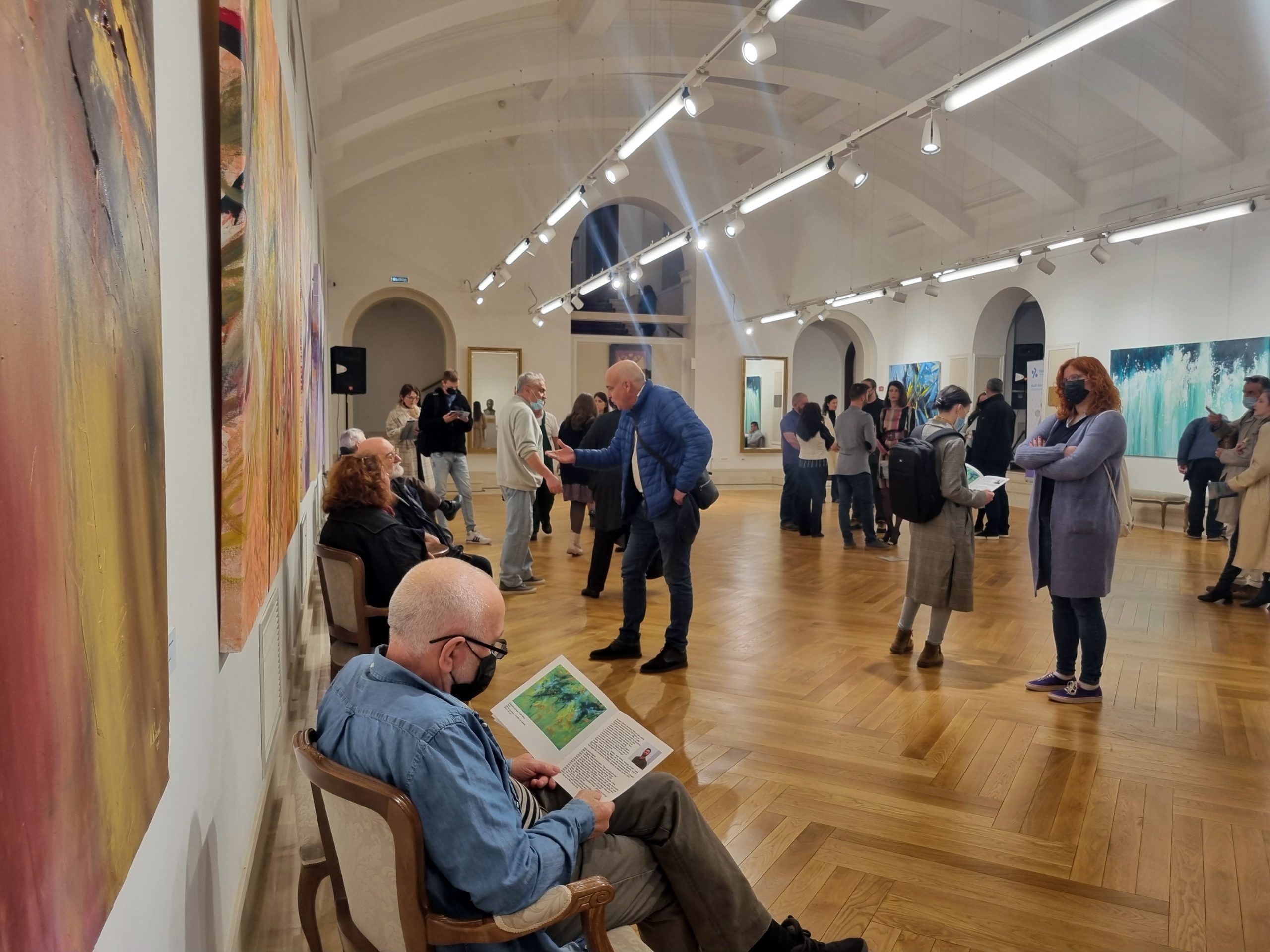 "Emotive move"
"Nemanja Vučković pushes the limits of expressive abstraction, with a focus on stroke and color." The exhibition is dominated by large canvases on which Vučković, using controlled vertical brushstrokes in combination with a looser and more relaxed style, creates an exceptional sense of movement. These are big, bold moves that don't clearly refer to the apparent nature of things, but to the deeper emotion of existence that surfaces. Color is a theme, it is a symbol, and the strokes give life to the works. The concept of spreading beyond the plane of the canvas is present, which allows it to extend the stroke and create a dynamic atmosphere.
Using the act of painting, a constant process of discovery and change, the diversity of works in this exhibition is visible. Putting them in the psychological perspective of observation, it is natural to notice that it is an act affected by a momentary emotion, as evidenced by the extraordinary spontaneity and explosiveness of the narrative.
The first thing that is noticed is the COLOR. Color is always contained in some form – both in life and in art.
Vučković often starts with a bright color and then layers it several times to increase the intensity, or do the opposite and tone it down to neutral – depending on the mood he wants to express.
In his book "Concerning the Spiritual in Art", Kandinsky was one of the first artists to write about the duality of emotion and art, back in the early 1900s. For Kandinsky, yellow had the sound of a shrill canary, while blue was a deep bass note. As in the orchestra concerts he attended in Russia at the time, he felt that the sounds conveyed immediate emotions and additionally enhanced the spiritual value. His life's work was to paint using color in abstract forms, to recreate the emotion he felt while listening to the concert. For Vučković, it is a move, a movement that leaves a trace of free thought using the hand, which is only a tool.
The image that attracts our attention relies on the openness of the author, his vulnerability, the courage to share his inner side, his deepest emotions. Not only to share, but to bring his feelings into a tangible form, which the viewer can consume, comment on, criticize…"
Marija Milošević
Director of the Art for All gallery
February 2022.
For the exhibition "Emotional move"
Gallery of the Russian Center for Science and Culture "Ruski dom" – Belgrade